There are two different types of orders available on the platform: scheduled orders and instant orders. Both types will be available to you, but the way to claim them is different.
Claim scheduled order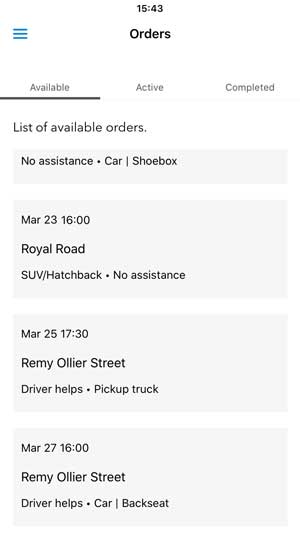 Notifications for new scheduled orders can only be received when a driver is online. However the app enables drivers to interact with a scheduled booking even when being offline. In the app, press the sandwich button in the left top corner, go to "Orders" and select the "Available" tab - you will see all orders matching your parameters. Click on the order to see details.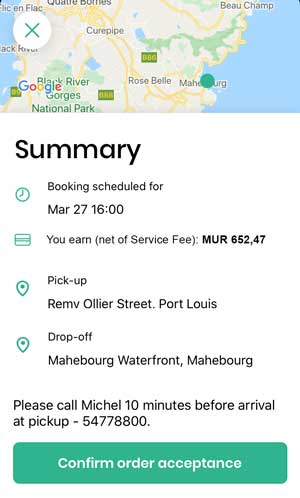 To claim the order press the "Claim" button and it will immediately become yours. Do not hesitate too long as the orders are also available to other drivers to claim. However, always make that you have read all the order information and will be able to comply with its requirements. Remember that calcellations have negative effect on the driver ratings.
Claim instant order
Make sure you are online: open your Bongéni Driver app and tap the car icon to go online. Bongéni will now look for the instant orders with pickup closest to your current location. Turn on some music and get comfortable: that first order request may come quickly or may take a while, depending on the number of current delivery requests.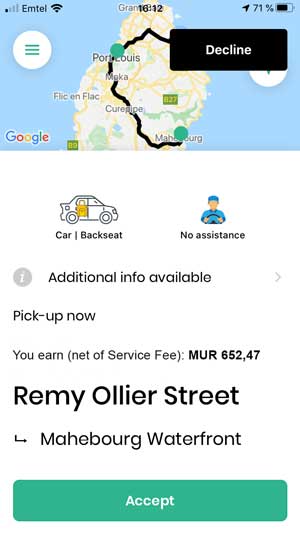 Instant orders are first proposed to the driver closest to the pick-up location. Once you receive an alert for an incoming instant delivery request, you have 15 seconds to tap the screen and accept the request before it will be proposed to the next driver, who is located a little further away from the pick-up location.
Verify the order
Once the order is assigned to you, you will get access to full order information, including the Sender name, contact details and order comments. Make sure to read thoroughly the comments to the order - they may provide important information, including details of the contacts for the pick-up and delivery locations.
It is highly recommended to call the Sender (or other pick-up contact as indicated in the comments) prior to starting your journey to verify the pick-up location (if it is not clear from the comments) and make sure that the Sender (or another contact person) is expecting you at pick-up location. No compensation will be provided to the driver in case driver does not meet the Sender at pick-up location.
Once you accepted and vefiried the instant order, you are supposed to start navigating to the pick-up location without any delay. Check how to do that: Navigating to pick-up.